Clean Side Systems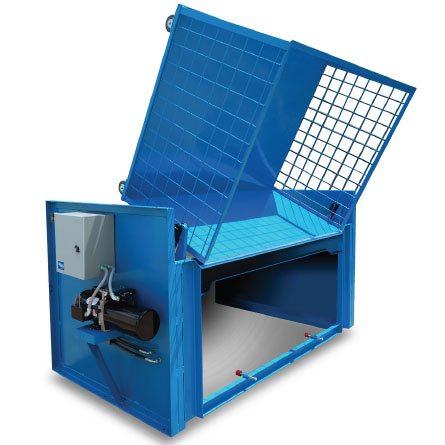 Cart Lift Fold/Feed Tables
Cart Lift Fold Tables are customarily used as ergonomic solutions for delivering bulk goods to finishing stations. Clean, dry bulk items are loaded into custom designed wire baskets from a dryer or overhead rail system. The baskets are rolled into the folding table's self-locking forks and raised by the operator gradually to dump the goods on the table. The raising of the basket is controlled by a pushbutton on the front and back of the table. Lowering is only allowed from the rear corner pushbutton station where the operator can make sure there is nothing under the basket as it comes down. The hydraulic system allows the raising and lowering to be acomplished smoothly.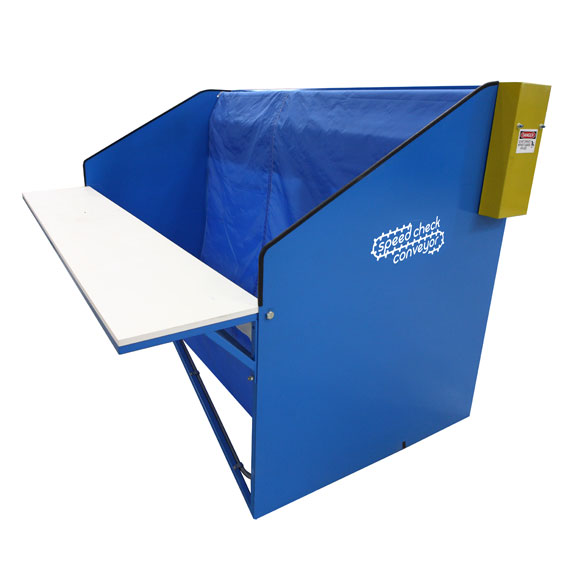 Roll Bottom Fold/Feed Tables
The Speed Check Roll Bottom Fold / Feed Table is designed to reduce operating costs and increase productivity by reducing operator back strain and fatigue. The table is lined with a blue "Pack Cloth" polyester fabric roll-up surface, which when loaded may be raised or lowered with a standard hand control or optional foot control. A heavy-duty electric motor brings the work to within easy reach of the operator. When emptied, the fabric is lowered using the same controls to accept the next load of work.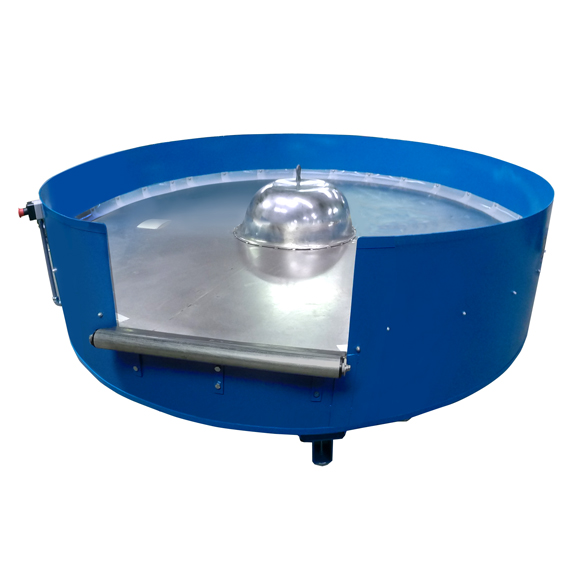 Carousel Rotating Table
Speed Check's Carousels are used for cart makeup and are located at the end of flatwork conveyors. The circular shape offers greater access to the goods, allowing multiple carts in a condensed area, and provides space for more operators to transfer goods to the carts. It's made with a 12-gauge stainless steel bed with painted mild steel sides and a heavy-duty structural steel frame. The side gap opening allows linen transfer from a belt conveyor.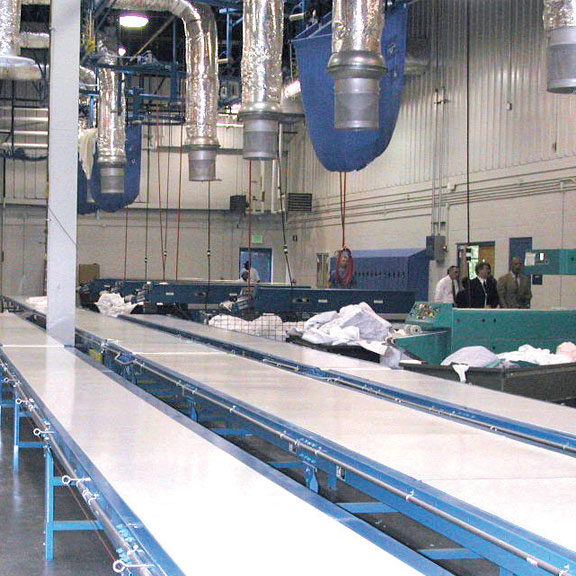 Slider Bed Belt Conveyors
The Speed Check Slider Bed Belt Conveyors have been designed to meet industrial standards with solutions specifically for the laundry industry. Whether for soil sorting systems, material transfer needs or clean material handling requirements, we can provide the right product. Depending on your need and application, Speed Check offers a variety of conveyor widths, conveyor lengths, conveyor-belt materials, and configurations for level or incline operation. Speed Check also supplies controls packages from simple manual push-button control to complex automated PLC control.